There are very specific phases of any emergency and they generally fall into seven different categories. 
They will always have several phases — any emergency will have several broad or specific facets that will be managed differently based upon the scope of the emergency itself and its aftermath. Each of the emergency management BERT courses describes the chaos inside an emergency and how to manage it using the ICS System (Incident Command System). Specific phases will need to be worked through.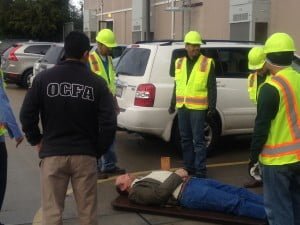 In Phase One, during and immediately after the cause of an emergency, fire, earthquake, civil unrest, et cetera, a command post, gathering and counting people and specific plan for the location of unaccounted for individuals is required. Simultaneously, the larger issue of when to expect assistance from first responders must be planned and anticipated.
Phase Two constitutes a search plan for the missing and a simultaneous triage of the facility or site to identify all the facets that need attention for proper evaluation.
Phase Three is the medical triage into designated safe areas of those mortally wounded, separated by level of injury.
Phase Four is to begin dealing with the psychological effects of the emergency.  
Phase Five is the realization of the timeline, ability and potential actual evacuation of individuals. This phase begins to account for potential shelter in place scenario with workers compensation safety concerns.
Phase Six is the implementation of the recovery plan to outline from your own emergency operations plan.
Phase Seven is financial.  Any emergency will have financial losses that may be reimbursable by insurance or FEMA. Both require appropriate documentation.
At BERT, we structure our training to reflect these specific phases. This training applies to any emergency, proving its value for employees and employers in any situation. Emergencies can happen at any time and any place, and require quick and organized action. Contact BERT today to see how we can help formulate a specific training approach for your business.
Does your facility have an Emergency Action Plan?
Download the BERT Compliance Checklist