NEW CAL/OSHA SAFETY MANDATE REGARDING COVID-19 AS OF DECEMBER 1, 2020
California Code of Regulations (CCR), Title 8, section 3205 (c).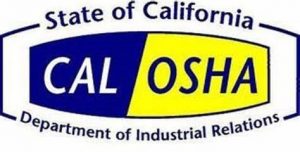 The State of California has put in place a new safety compliance mandate for employers pursuant to an 
Emergency Temporary Standard
 for 
COVID-19
, known as the 
COVID-19 Prevention Program (CPP)
. This plan may stand alone or be incorporated into your existing Injury, illness Prevention Program (IIPP).
Workplace safety and health regulations in California require employers to take steps to protect workers exposed to infectious diseases like the Novel Coronavirus (COVID-19), which is widespread in the community. Cal/OSHA has posted the following resources to help employers comply with these requirements and to provide workers information on how to protect themselves and prevent the spread of the disease.
Cal/OSHA recommends the guidance, educational materials, model programs and plans, and other resources that are provided below, be reviewed with an employer's existing procedures to ensure that workers are protected.